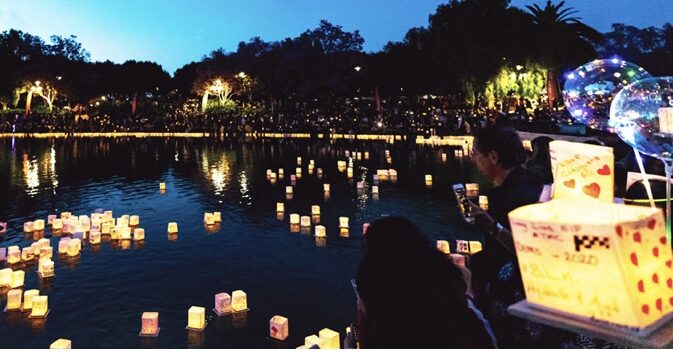 November is a time to be thankful for all of the blessings and people in your life. One of the best ways to show your family that you are thankful for them is to spend time together.  Listed below are several opportunities to do just that!
Tucson Celtic Festival and Scottish Highland Games  11/5/21-11/7/21
The festival provides a gathering place for those interested in Celtic Culture where they may participate in and enjoy various Celtic arts, traditional dress, crafts, foods, vendors, music, dance, literature, language and athletics in the form of demonstrations, reenactments, performances and competitions. For more information or to purchase tickets, go to: http://tucsoncelticfestival.org/
Gilbert Family Night-Movie in the park "Cruella" 11/5/21 6:30pm FREE
Gilbert Cinemas presents "Cruella" at Gilbert Regional Park! This event is free and open to the public. Cruella is a family-friendly event. This feature film is rated PG-13. Food trucks will be on-site during the event with refreshments and outside food and drink is also welcome. No alcohol please. Guests are encouraged to bring blankets or lawn chairs. For more information, go to: https://www.gilbertaz.gov/departments/parks-and-recreation/special-events-and-permits/gilbert-family-nights#!/
SoZo Coffeehouse Open Poetry Nights and Open Mic Nights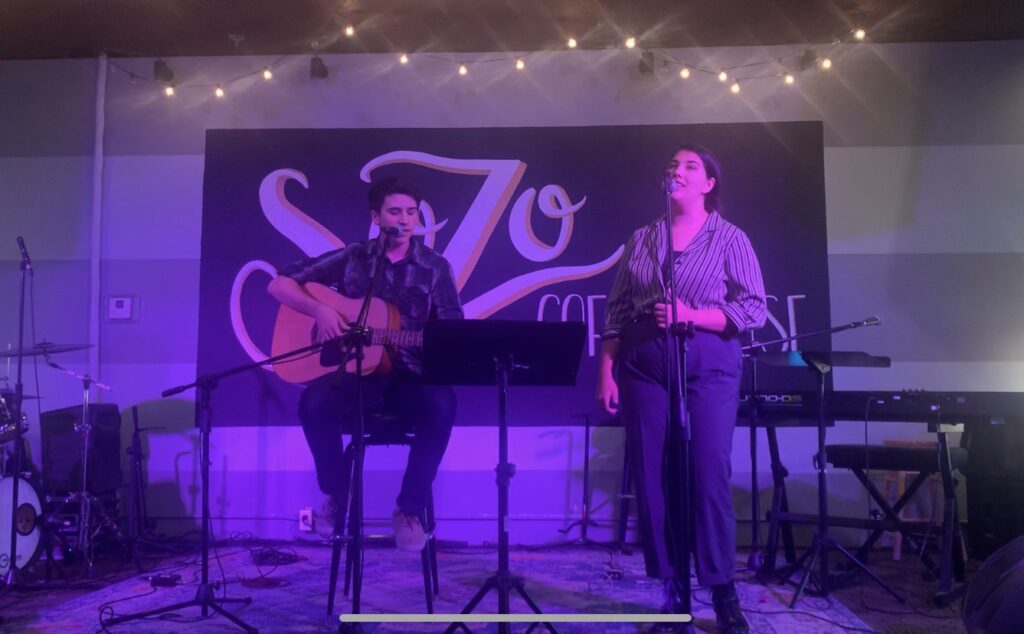 Come to a family-friendly, warm and relaxed venue to enjoy local artists sharing their talents in Chandler! OR come and share yours!! Every first Thursday of the month, local poets will come and share their poetry from 7pm to 9pm and every second Saturday and fourth Friday, musicians come to sing and play music during Open Mic Nights. As you enjoy the local entertainment, you can also enjoy some delicious pastries, as well as, coffee, hot cocoa, Italian sodas, and more made just for you by the amazing SoZo baristas. You can also feel good that you will be impacting the community and the world for good because SoZo donates money from every purchase to a local or international cause or organization that is seeking to improve the world in which we live. For more information, go to: https://sozocoffee.org/
Free First Friday Night at the Children's Museum of Phoenix 11/5/21
The Museum is open from 5pm to 9pm free of charge on the first Friday of each month. Space is very limited and guests will be admitted on a first-come, first-served basis. Museum admission is not guaranteed due to the limited capacity. Please note: Masks are required for all Museum guests ages 2 and up, regardless of vaccination status. For more information, please go to: https://childrensmuseumofphoenix.org/event/free-first-friday-night/2021-11-05/
2021 Fun Day-Renaissance style event by the Arizona Youth Rough Riders 11/6/21
Hear ye! Hear ye! Calling all knights and ladies! Come to Apache Junction 11/6/21 from 10am to 3pm and enjoy Renaissance style events, food, and craft Faire! Come ride, eat, and shop for the holidays! For more information on the event, check out the Arizona Youth Rough Riders Facebook page. 
Old Fashioned Family Carnival 11/11/21 12pm-2pm Freestone Recreation Center
Step back in time at the Old Fashioned Carnival featuring classic games and fun for the whole family to enjoy on November 11th at 12pm. The cost is $10 per participant and includes 10 carnival tickets and a bag of popcorn. This event will be hosted at the Freestone Recreation Center at 1141 E. Guadalupe Rd. in Gilbert. Freestone members can receive 50% off registration when they register in person at Freestone Recreation Center. To register online, please go to: https://www.gilbertaz.gov/Home/Components/Calendar/Event/9990/19?curm=11&cury=2021
Donut Run by Tortoise and Hare Sports 11/13/21 FREE event! 
Come to Glendale and walk or run and get social and meet new friends! The run begins at the store 17550 North 75th Ave #605 Glendale, AZ 85308 and has 3 distances to choose from: 1, 3ish, and 5ish miles. Finish with delicious local donuts and a custom Tortoise and Hare Sports coffee brew. In an effort to keep the event as safe as possible, the event is limited to 100 participants, and masks are required while gathered before and after the walk/run. The event is FREE, but all participants are required to register beforehand. To register, please go to: https://www.eventbrite.com/e/donut-run-tickets-147178357429
Water Lantern Festival at Kiwanis Lake 11/13/21
The Water Lantern Festival is filled with fun, happiness, hope, and great memories that you'll cherish for a lifetime. This is a family friendly event that can be shared by everyone. Each adult ticket comes with a wristband for entry into the festival area with access to food trucks, a floating lantern kit, an LED candle, a commemorative drawstring bag, a marker, and lantern retrieval and water clean up. The price covers the cost of collecting and removing the lanterns from the water following the event as well as cleaning up any trash that may have previously been in or around the water. Prices go up as the event gets closer, so purchase your tickets early for the best price. For more information and to purchase tickets, go to:  https://www.waterlanternfestival.com/tempe.php
Fairy Harvest Festival at Singh Meadows in Tempe 11/14/21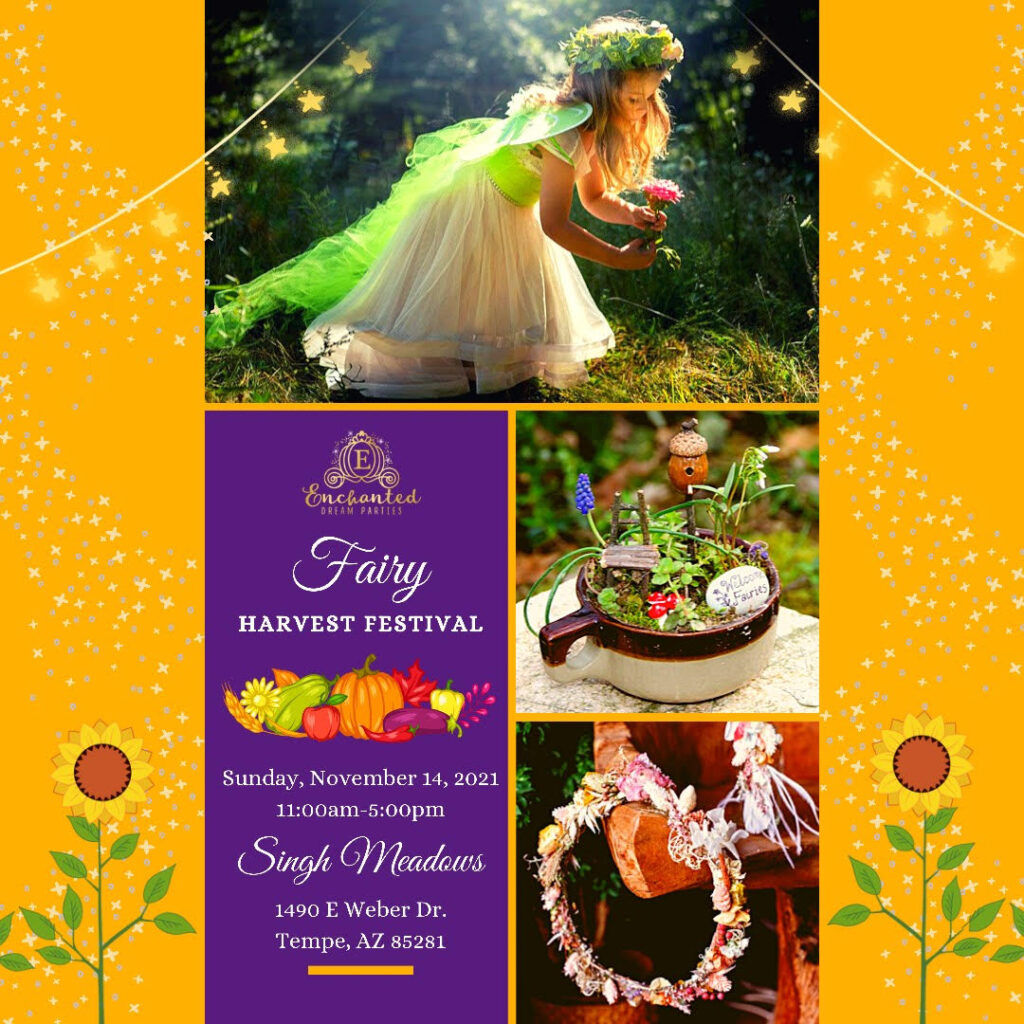 Brought to you by Enchanted Dream Parties and held at Singh Meadows in Tempe. Celebrate fall with a day of family fun! Take mini photos with the Fairy Princess and make a fairy garden. Find the hidden fairy houses. Go for a pony ride, transform into a magical fairy Princess with face painting. Create crafts, go boutique shopping and a shop at the farmers market. There are picnic spots and lunch available too! Dress to impress if you wish. Fun for all ages. Free for adults and kids under 12 months. $10 tickets include a jar of pixie dust, a goodie bag and raffle ticket. You can also purchase mini photo sessions with the Fairy Princess, as well.  Parking is an additional fee per car. (You will need to purchase one "adult" ticket per car as this is how you pay for parking). For more information and tickets, go to www.enchanteddreamproductions.com
Free Third Tuesday at the Queen Creek Botanical Gardens 11/16/21 9am-4pm
Starting every third Tuesday of the month, the QC Botanical Gardens offers free admission to the public. If you haven't made your way over to the Gardens yet, now is the perfect time to check it out. Admission is by reservation only, so sign up to guarantee your spot! READ BELOW: Tickets are digital, so no need to pick up tickets beforehand! Add-ons: -Catch & Release Fishing (9am-10am)–$5/person -*Canoe Rental (10am-4pm)–$5/person -Guided Tour –$10/adult, $5/child *Canoe Rental Information: -Children under the age of 12 need to be accompanied by a parent/guardian over the age of 18 -Minimum of two people in a canoe. To make your reservation, go to: https://www.simpletix.com/e/free-third-tuesday-november-16th-2021-tick-tickets-76179
Gilbert Days Music Festival 11/19-11/20
Held at Gilbert Regional Park, this is a two-day music festival with food, drinks, inflatables, and lots of family fun! This event is part of the 2021 Gilbert Days Celebration and open to all ages. Admission is required. Adults tickets are $5 when purchased before November 18th. Children admission is free with paying adult. For tickets, go to: 
https://www.gilbertaz.gov/departments/parks-and-recreation/special-events-and-permits/gilbert-days/gilbert-days-concert
Gilbert Days Rodeo: Faith, Family, & Freedom 11/19-11/21
Get ready for three action-packed days of the toughest sport on dirt. Don't forget to check out all of the vendors and Saturday night Rodeo Dance! Rain or Shine! All ticket sales are non-refundable. For more information or for tickets, go to: https://www.gilbertdays.org/event-details/gilbert-rodeo
Gilbert Half Marathon/10K  A Shun the Sun Foundation Event 11/20/21 
Shun the Sun Foundation, a 501(c)(3) non-profit organization, raises money to build shade structures and educate the community on skin cancer awareness and prevention. All of the proceeds from the Gilbert Half Marathon events are donated to Shun the Sun Foundation in order to build shade structures. Shun the Sun Foundation works with the Town of Gilbert to bring runners an amazing race through the heart of Gilbert that finishes alongside the Gilbert Days Parade! For more information or to register, go to: https://gilberthalfmarathon.org/
Gilbert Days Parade 11/20/21
Celebrate the past and the future of Gilbert at the Gilbert Days Parade presented by the Gilbert Half Marathon. The parade will take place in Gilbert's Downtown Heritage District on Saturday, November 20, 2021, with step off at 8:30 AM on Gilbert Road between Elliot Road and Juniper Avenue. This year's theme is Gilbert: City of the Future. 
Parking can be found throughout the Heritage District and road closure information will be available soon. If needed, a rain date has been set for December 8th at 8:30 AM. For more information, go to: https://www.gilbertaz.gov/departments/parks-and-recreation/special-events-and-permits/gilbert-days/gilbert-days-parade
Shrek the Musical, Jr. at Queen Creek Performing Arts Center 11/18-11/23/21
Shrek leads a cast of fairytale misfits on an adventure to rescue a princess and find true acceptance. Part romance and part twisted fairy tale, Shrek Jr. is an irreverently fun show with a powerful message for the whole family. Evening performances at 7pm and Saturday matinee at 2pm. Pricing: Adults $15, Children $13. For more information and to purchase tickets, go to: https://qcpac.com/
November Farm to Table at Queen Creek Botanical Gardens 11/19/21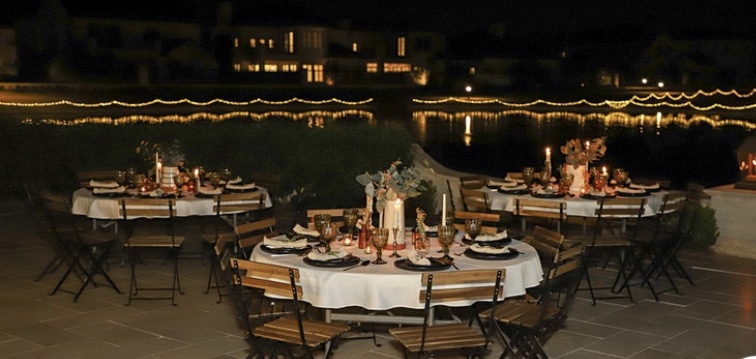 This dining adventure will showcase the fresh bounty of the gardens, highlighting the finest seasonal ingredients! Prepared by local exquisite chefs bringing you an array of innovative culinary creations. Come taste this 5-course tour exquisitely balanced with the perfectly paired taste of wine or mocktail (additional cost) The Garden's Master Sommelier will be on hand to answer any of your questions. Seating is extremely limited to ensure the finest experience. For tickets and more information, go to: https://www.eventbrite.com/e/november-farm-to-table-at-qc-gardens-tickets-168816618049
Water Tower Holiday Lighting 11/29/21 6pm-8:30pm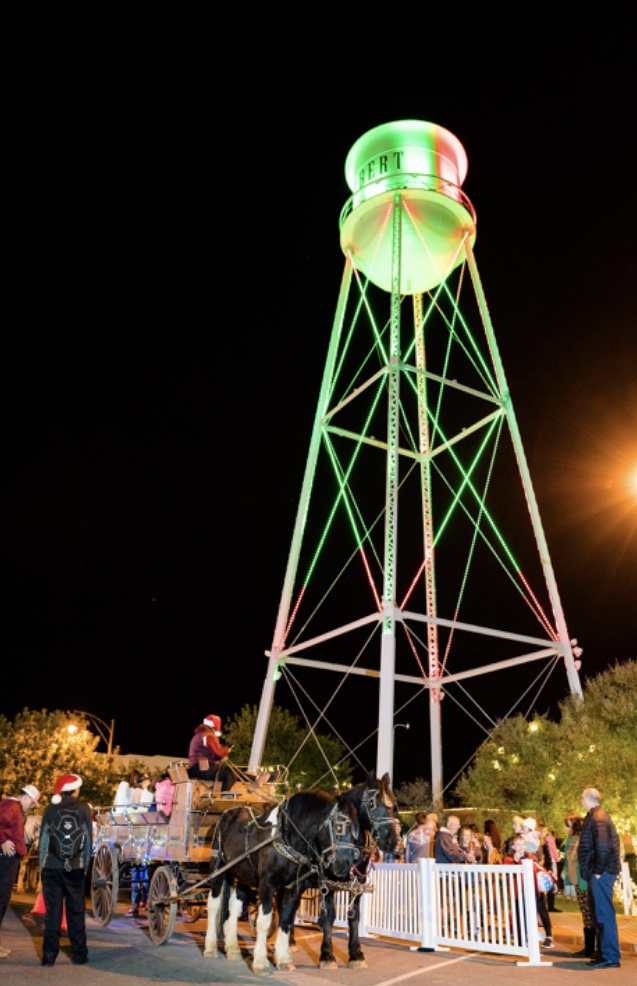 Get in the holiday spirit with the Town of Gilbert's annual Water Tower Lighting and Holiday Concert. This year's event will include free family activities, food trucks, and live music. Join the Mayor and Council of Gilbert in this tradition as they light the Gilbert Water Tower to kick off the holiday season. For more information, go to: https://www.gilbertaz.gov/departments/water-tower-holiday-lighting